Members Earn Points for Clicking Banners and Hot Links
Members Hotlink : Who doesn't like F R E E?
Like us on Facebook and receive Home Business Training, Tips and Solutions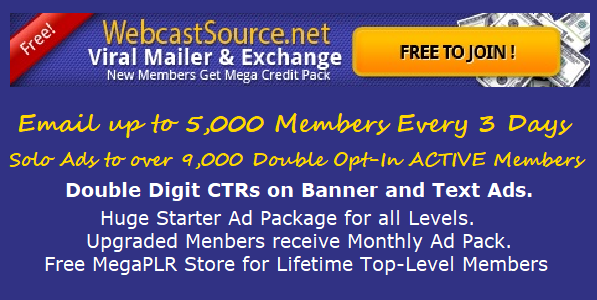 I am declaring war on email delivery problems and spam, because we have no choice. We must take the actions outlined below starting today.

Time is now for all email marketers to take action and get our email marketing back to historic activity.
History:
The problem started when spammers started using legal email accounts to spam others.

This caused the email service providers to block mailers like the ones we all join, since they could not determine who was spamming and who was not, so everyone of us got punished.

Then the mailers banned those email service providers

Then the next group of email service providers blocked mailers

The cycle continued block and ban.

This nonsense will now stop at my sites at everyone of my sites including this one.


Gmail started spam filters and mailers were convinced gmail would accept all the mail and filter out the spam.

Finally gmail instituted a quota system and is not accepting mail from many of our members because of this. We could see the declined results immediately the day the quota went into effect.

Here is part of the discussion from Google:
To keep our systems healthy and your accounts safe, all Google Apps accounts limit the amount of email a user can receive per minute, hour, and day. Setting up the account to receive frequent automated messages, such as log files, increases the likelihood of reaching the limits.

Email Quota at Google
Per minute 60
Per hour 3,600
Per day 86,400


If an account reaches the limit, a user cannot receive any new email and may experience general account degradation, such as slow searching. All incoming messages are bounced or deferred back to the sender. (This is what overloads our servers and if not handled leads to server downtime. Furthermore, there is confusion abut gmail server limits and what that means if you are using gmail.)

Here is the current situation:
Many of your emails are not being delivered to you and many many more are not being delivered to those you send to.
This problem has reached critical mass for email marketers like us.


Our Plan of action for this site:

This is a long term plan and will not be easy to implement but it will be accomplished

I will implement it in steps and notify you the site member of every step

I will give advance notice each time before an account purge.

In the end this will be the best thing for all of us.
First Step Starts today:
Purging the email service providers
that are blocking our email now

Email service providers that block our emails will be banned at this site
At some point all members with banned emails will be purged and their accounts will be deleted at this site.


The following email service providers block our site's emails and are banned
as of October 18, 2015:
AOL and there are others to be discovered



Please use a free pro Email Service like

ViralInbox




You will be given a notice of account purge 30 days prior to account deletion.
30 days later all accounts using the above email service providers will be deleted.

Problem: Invalid or false accounts
Any email account that is not vaild will be deleted. Some members have signed up with false email accounts and we will purge them.
We get reports from our servers that designate these accounts and any member using one will be given notice to add a valid email address or get purged.

Problem: Gmail quota
If your are over quota at gmail our servers receive a notice and we will begin the process of notifying you that you are over quota.
If gmail sends us three of these notices, we will notify you to get another email service provider
If gmail sends us a notice your gmail account is false your account will be deleted.

Overall for you to consider today to get started.
If you are using an account with yahoo, live, msn Hotmail or AOL then you must get another email service provider like ViralInBox since your emails are now blocked from our site.

If you have a gmail account then look at your usage, if you are serious about making a living online then get another email service


Thanks
Joe Freyaldenhoven
| | | | |
| --- | --- | --- | --- |
| Member Type | Par Pro | Birdie Pro | Eagle Pro |
| Cost | FREE | $9.99 Lifetime | $29.99 Lifetime |
| Points on joining | 50 | 10000 | 25000 |
| Points for every Text Ad read | 10 | 20 | 40 |
| Points for every HTML Ad read | 10 | 20 | 40 |
| Points for every Banner Ad clicked | 10 | 20 | 40 |
| Points for every Button Banner Ad clicked | 10 | 20 | 40 |
| Points for every Hot Link Ad clicked | 10 | 20 | 40 |
| Points for every Traffic Link Ad clicked | 10 | 20 | 40 |
| Points for every Bottom Navigation Ad clicked | 25 | 50 | 100 |
| Points for every Solo Ad clicked | 100 | 150 | 200 |
| Points for every Admin Ad clicked | 200 | 300 | 400 |
| Commissions for every PTC Ad read | | | |
| Post Text Ads per day | 5 | 10 | 15 |
| Post HTML ads perA day | 5 | 10 | 15 |
| Post Solo Ads per day | 1 | 1 | 1 |
| Saved Text Ads allowed | 5 | 10 | 15 |
| Saved HTML Ads allowed | 5 | 10 | 15 |
| Saved Solo Ads allowed | 5 | 10 | 15 |
| Links in the Viral Link Cloaker allowed | | | |
| Points for every Referral | 1000 | 2500 | 5000 |
| Points when a Referral logs in | 10 | 15 | 20 |
| Percentage in points when a Referral earns points | 10 % | 15 % | 20 % |
| Percentage in Commission when a Referral buys advertising | 50 % | 50 % | 50 % |
| Commission for Par Pro for a member referred | 0.00 | | |
| Commission for Birdie Pro for a member referred | 0.00 | | |
| Commission for Eagle Pro for a member referred | 0.00 | | |